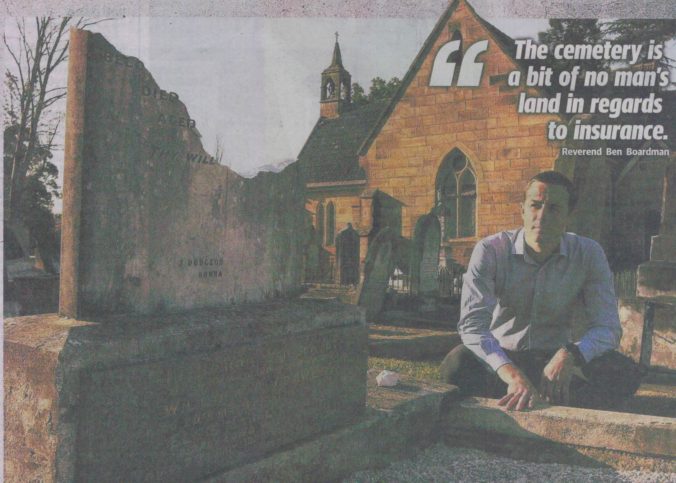 St Mark's Pioneer Cemetery Storm Recovery
On 5th June 2016 a devastating storm swept through Picton damaging homes and businesses. It has been a long road to recovery, and there is still a long way to go for some. This includes the historic St Mark's Pioneer cemetery, which was severely damaged. The cemetery holds many of our towns pioneers and nearly two centuries of history.
Much of that history presently lays cracked or toppled and needs your help to be preserved.
St Mark's Anglican Church have set up a Cemetery Restoration Committee along with separate bank account to co-ordinate the restoration work.
We've applied for State Heritage funding and been knocked back. We've rallied volunteer support to get some things done and received some support from two local companies. But we still lack the funding to employ a stone-mason to reset and pin cracked headstones and to lay down wobbly ones that are a safety risk to the public.
Your donations will be used to make the cemetery safe and begin repairs on toppled and cracked headstones so that Picton's pioneers and history can be preserved and celebrated for generations to come.
If you donate $10, we'll send you a brochure outlining some of the rich history of St Mark's Church and Pioneer Cemetery.
If you donate $50, we'll invite you on a history tour of Picton township, Church and cemetery.
For as little as $432 you can restore a whole individual grave-site (repairing and re-pinning the headstone to its base by a professional stonemason), and we'll send you a before and after photo of the particular site with a personal thankyou letter.
You can donate using paypal at our campaign website (click here), or to avoid merchant fees you could direct deposit into our separate Cemetery Bank account (details below).  If you donate via direct deposit, please send us an email (cemetery@pwac.org.au) with your address and donation details so that we can send you a receipt and any perks you request.
Bank details here:
BSB:           062654
acct no.:   1024 5805
Name:       St Mark's Cemetery Restoration Project